How many times have you blamed the jury for getting it wrong?
I hate to break it to you, but that's not true.
They don't always get it *right*, but the jury NEVER gets it wrong.
Find out what I mean in today's episode of the FH2H Podcast.
How many times have you blamed the jury for getting it wrong?
I hate to break it to you, but that's not true.
They don't always get it *right*, but the jury NEVER gets it wrong.
Find out what I mean in today's episode of the FH2H Podcast.
For continued learning, I recommend reading this article by Stephen O. Roberts, found HERE.
❤️ Sari
EPISODE 193 TRANSCRIPTION
Welcome, welcome to another episode of From Hostage to Hero. Sari de la Motte here with you today. Finally, I'm back on camera because I've survived the triple-demic or whatever they're talking about. I did get COVID for the first time ever over Christmas, so that was super fun, and before that, I'm sure I had RSV and something else. I was sick all fall, which you heard in my voice, but I'm feeling much better and excited to be in the beginning of the year and here with you.
We're going to start today with another podcast review, which is titled Top-Notch, five stars by STPWHSPRNG. I have no idea what the fuck that means and here's what he or she says, "No doubt, Sari's style isn't for everyone. She's bold, brash, and opinionated. She curses like a sailor." What? No, I don't. I guess I do. "And shamelessly and incessantly plugs herself and her crew, but she delivers. Can't miss content for those plaintiff attorneys willing to..." Then, it cuts off. I don't know, willing to be abused by me perhaps is what this person was saying.
Now, let's talk about this shamelessly and incessantly plugging business. This is the second review. You guys are killing me on this. I was just listening to Michael Cohen's podcast, Trial Lawyer Nation. If you're not listening to it, get on that immediately. Love Michael Cohen and he has a whole goddam fucking commercial in the middle of his podcast. I don't see any y'all telling him that he's shamelessly plugging his services, so come on now. Let's not make this a female thing. I hope that's not what it is. That said, I will continue to shamelessly and incessantly plug.
In fact, we have something to tell you, which is the crew is opening in a little under two weeks from today. You definitely want to go to get on the wait list and we are now calling it the H2H Playground™, where the crew plays. You definitely do not want to miss, because I'm shamelessly plugging this right now for you.
All right, while I am pissing you off, let's talk about today's topic, which is definitely going to piss you off. I don't do it on purpose, but I think a lot of my stuff pisses people off because y'all don't want to hear the truth and then maybe you do because a lot of you are telling me that I'm dropping the truth bombs.
Here it is. The jury didn't get it wrong.
That's what we're talking about today. Every time we lose, we say things like the jury got it wrong. In fact, I've even said it before, but around here, we are all about trusting your jury and letting them solve your problems. We really firmly believe in that, but what happens is the question, when we trust them and then we lose. Now, for most of us, we'll say things like, "Well, they got it wrong," or some of you, many of you, let's be honest, blame yourselves or both, but they didn't get it wrong. I'm saying it. They didn't get it wrong. They didn't get it right, they didn't get it right, but they also didn't get it wrong.
Now, here's what I mean. When we lose, we blame the jury because they are the easy target and when we say they got it wrong, we're blaming them and making it their fault, which here's the important part, creates powerlessness. Meaning, if the jury is the problem, then we have a problem that we cannot solve. Pure and simple. We cannot control or change other people, so then we're just relegated to relying on luck. We cross our fingers and we hope that we get a better jury next time. Now, this is not a good strategy, y'all. I don't know about you, but when people's lives are on the line and they hang in the balance, I don't want to rely on luck. No, the jury doesn't get it wrong. They do their best within their limitations and what they're given.
Now, I'm going to spend the rest of this podcast convincing you of this fact because it's going to serve you, not for any other reason, but it's going to serve you and it does not serve you to say that the jury got it wrong. Now, I know that you're probably cursing at me wherever you're listening to this podcast and you're like, Okay, I don't believe they got it wrong, but let's say that even I give you that my last case, they got it wrong, but what about cases still happening now, but let's think 50, 100 years ago where in cases of rape, where they let the rapist off because of sexism or cases where there's racism involved or homophobia or antisemitism or tort reform. Yep, those cases too, they didn't get it wrong.
Here's what I mean. Let's talk about racism, for example, and racist verdicts. There was a great article that I was reading. It's from a research study done by Stanford and it says Stanford psychologist identifies seven factors that contribute to American racism. I'm going to put this link to this article in the show notes. It says, and it starts, "American racism is alive and well," begins a new journal article led by Steven O. Roberts, a Stanford psychologist that arrives during a time of heightened attention to racial injustice in the United States. He says, "People often define racism as disliking or mistreating others on the basis of race. That definition is wrong," said Roberts, who directs the Social Concepts Lab, part of the psychology department in the school of humanities and sciences.
"Racism," he says, "Is a system of advantage based on race. It's a hierarchy, it's a pandemic. Racism is so deeply embedded within the US minds and US society that is virtually impossible to escape." Now, this is what I'm talking about when I'm talking about how jurors are not getting it wrong. Do we have racist verdicts? Yes, but that's because racism exists in our society. Stay with me.
Let's talk about rape. Rape, as you all know, same in your cases with personal injury or med mal or whatever you're dealing with, we have this defensive attribution that is happening in most of these cases in that jurors do not want to believe that what happened to our plaintiff could potentially happen to them. We tend to blame the plaintiff, and that is never more true than in rape cases, because we want to believe, especially women, that if we would've done something different, this wouldn't or couldn't happen to us or to our mothers or our sisters or our daughters. I believe this is true for men too as well. Defensive attribution is also part of this when we're talking about, say, cases of rape.
Tort reform. Tort reform, the media has blown that out of fucking proportion as you know, which affects our jury pool. Here's what I'm trying to get at. Jurors didn't get it wrong. Racism is wrong. Jurors didn't get it wrong. The way we talk about sex and talk in this country and in western society and toxic masculinity and all the rest of it is what's wrong. The jury didn't get it wrong, the media got it wrong. When we blame the jury, we create a dead end. We have to go to the root of the issue. Racism is the problem. Sexism is the problem. Tort reform is the problem. You say to me, "Well, I can't fix that." Well, if you can't, then who the fuck can? This is on all of us. If you want jurors to get it "right," we got to stand up for what is right outside of the courtroom, because that's what changes things.
The most influential person in a juror's life, you've heard me say this before, is the juror themselves. Change begins outside of the courtroom because that is where life is lived. I mean, look around. Everywhere we look, we see discrimination, we see hate, we see prejudice, and yet somehow we expect that these perfect sanitized jurors are going to arrive inside the courtroom and then we get pissed when they return the verdicts that they do. You stand on the side of the right. I firmly believe this. But when a jury decides against you, it does not mean they got it wrong. It means that they brought in all of their shit, their fear, their racism. We're all racist, by the way, all of us. Google it. Research will back me up on that. They bring in their fucked up brains, ditto. We bring our fucked up brains in too, and they make decisions from that place.
Now, you want different verdicts, you got to start outside of the courtroom. Now, in terms of what we've been talking about, racism, sexism, and all that kind of stuff, you got to become a social justice warrior. You're warrior in the courtroom, you've also got to be one outside of the courtroom, because that is going to change our jury pools, but I don't just mean that. Here's what I also mean. You got to look at your shit too. I see so many of you say that the jurors got it wrong after a loss, but if I were to ask you, you can raise your hand where you are right now, unless you're driving, don't take your hands off the wheel.
Did you practice your opening statement a lot from the very beginning in front of other people? Did you get feedback on that opening statement? Did you do a lot of mock voir dires? Did you get vocal training? Did you work with a presentation coach? Did you spend a shit ton of time with your client? How many hands are raised right now? Yeah, that's what I thought. Hardly any.
See, here's what I don't understand. You put in the bare minimum effort and you whine when the jury gets it wrong. What? It doesn't fucking make any sense to me. Listen, this is like, here we go sports again, a basketball, you want to become a basketball player, and so what you do is you read about basketball and all the different plays and the different things, and you watch basketball on TV and maybe you even sketched out some plays on your own, but you never fucking practice. Then, you get into the game and you're surprised when you have your ass handed to you.
You can say, "Well, the defense doesn't practice either." Well, no shit, they don't have to. They can base their cases on racism and fear and all the other shit, because that's naturally the human condition. In case nobody told you this, you are the underdog here. You got a lot more to overcome than the defense does, and even if you weren't the underdog, this is what I also don't understand. This is your craft, and a lot of you when it comes to trial, I'm not talking about lawyering in general, but when it comes to trial, are fucking phoning it in.
Now, I'm not saying this because I love you because I think you're lazy or that you don't work hard enough, you some of the hardest workers that I know, but here's what I do know is that you're fucking scared. And so, instead of spending the time to work on your craft, you are settling as many cases as you can. I mean, Michael Cohen just said on his podcast, we know settling is where the money is. It's the true trial lawyers that will take cases to trial. But you're settling because again, fear. You're worried about how you're going to cover the bills. You're scared about how you're going to make that money, which brings up another point.
What are you doing to manage your mind? If you are not managing your mind around the trauma that is trial and being a trial attorney.. We're going to have an upcoming podcast on trial trauma, then you're also not working on your craft because this is part of the deal. Because of your fear, you are not spending the time working on your craft, the craft of trial lawyering, you're not getting that practice in, you're not standing up and working with a coach, you're not getting a coach to deal with your mindset issues, you're not getting feedback from your community, you're not doing all of the things that are actually going to make a difference in trial, and then you're upset when the jurors bring a verdict for the defense and you say, "Well, they got it wrong."
Now, I know that you read and attend CLEs and you listen to podcasts and all the other things, but if you're not on the regular, I'm talking weekly, if not daily, practicing your trial skills, learning how to weave and pivot, see my sports stuff there, managing your mind, then CLEs, books and all the rest of it doesn't mean jack shit, including this podcast.
Here's the new rule. You don't get to say that the jury got it wrong if you are not consistently working on your craft.
It's like losing a basketball game because you didn't bother to practice and then accusing the other side of cheating. That's not fair.
Then, that leaves us with the people who do practice like those of you in the H2H crew, because I know that's what you guys are doing and you still get defense verdicts. The question then becomes, did the jury get it wrong in those cases? And the answer is also no. I believe that every jury wants to get it right, but their fear, their fucked up brains, their shit, the world in general, all the stuff we put on each other influences their decision-making. That doesn't make them wrong, it makes them human.
When you see them as human and you see the work that we still have to do in the world, I keep telling you, y'all are going to change the world. I'm going to help you, but that's part of your job here. I hope you will focus your efforts on working on your craft and releasing the blame, because that, my friends, is where the true power lies. Talk to you next week.
Red rover, red rover, I send you on over, over to H2H Playground™, that is. I am beyond thrilled to officially invite you to join us in the new and improved H2H Playground™. I know. Doesn't that sound like fun? This is your chance to be part of the only online working group in the world for plaintiff attorneys to learn and practice trial skills in a safe place while having fun. This, my friend, is where you become the lawyer you were born to be. Join the wait list at sariswears.com. We open the doors later this month. Go sign up now. Olly olly oxen free!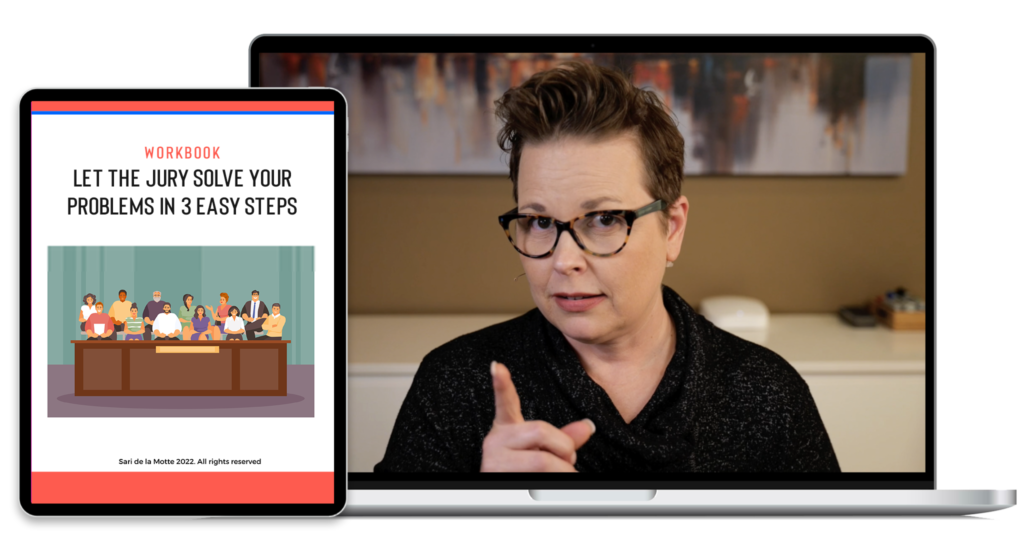 Free Training
---
3 pOWERFUL STRATEGIES TO HELP YOU READ A JUROR'S MIND
Let the Jury Solve Your Problems in 3 Easy Steps
Join me for a free training to understand what the jury is thinking so you have the confidence to trust them - and yourself - in the courtroom.
Use the H2H Funnel Method so that jurors tell YOU the principles of the case instead of you telling THEM.

Subscribe to the Podcast
Tune in weekly as Sari shares tips that will help you up your game at trial, connect with jurors, and build confidence in your abilities so that you'll never worry about winning again.
Sign up for trial tips, mindset shifts, and whatever else is on Sari's brilliant fucking mind.