If you're here weekly, you know that I don't normally interview people in this podcast. But in this SPECIAL episode, I take you on a thrilling journey into the minds of two absolute fucking legal legends, Michael Cowen and Malorie Peacock.
Fresh off their incredible $17.5 million victory, together, we'll unveil their winning strategies, inspired by our H2H Playground program.
Get ready to let go of your preconceived notions and build your confidence as a trial attorney right alongside me!
Love,
Sari
Mentioned in the episode:
Michael Cowen's exciting event coming up – the Big Rig Bootcamp, where they'll share their wisdom on trucking cases.
https://triallawyernation.com/bigrigbootcamp/
Quote:
Michael Cowen -
I think the biggest way it's changed is internal. I used to go in there scared that someone's going to want to screw me over or they're not going to believe me or I'm not going to be good enough. And now I just tell myself before every trial, these are good people. They're coming in here taking time out of their day for very little money. They want to do the right thing. I'm going to trust them to do the right thing.
EPISODE 233 TRANSCRIPTION
Sari de la Motte:
Welcome, everyone to another episode of From Hostage to Hero. I am here with Michael Cowen and Malorie Peacock of Cowen, Rodriguez and Peacock, The Trucking Trial lawyers. And many of you know that Michael Cowen is also the host of Trial Lawyer Nation. I am very excited to have them on the podcast today. We're going to be debriefing their recent win, their 17.5 million award in a case that we're going to talk about today. Welcome to both of you. Thank you for being here.
Michael Cowen:
Thank you for having us.
Malorie Peacock:
I'm excited.
Michael Cowen:
I've had you on mine, it's fun to be on yours.
Sari de la Motte:
I was just telling Michael before we hit record that I normally don't interview people on the podcast, but Michael, if there's anyone I'm going to interview, it's going to be Michael and Malorie. They're so much fun. I'm so glad to have you on the podcast and to talk about this, because I know there's some cool mindset stuff we're going to get into as well. But before we do that, let's just get our bearings, some context here. Where was this case tried?
Malorie Peacock:
It was tried in Hidalgo County, Texas, which is on the border between Mexico and Texas. Way downtown.
Sari de la Motte:
Tell us a little bit about the jurisdiction there, Malorie.
Malorie Peacock:
The jurisdiction is fairly plaintiff friendly. Generally, it's assumed to be that. It's been changing in the last maybe five or so years, leaning a little more conservative than it used to be. I would say it's mostly Hispanic. It's generally looked upon as a favorable plaintiff's jurisdiction, but I do think some of that is changing.
Sari de la Motte:
Okay. So, there wasn't a, "Oh my gosh, this is a terrible venue to be trying this in."
Michael Cowen:
No.
Sari de la Motte:
Michael, tell me a little bit about the case. Give me an overview.
Michael Cowen:
Sure. Our client, Chris, was working on a standup forklift. Unbeknownst to him, standup forklifts have had a problem for decades, in that they don't have a door behind you. You have an empty space. And it's easy to lose your balance when you're operating them, and if you lose your balance, the instinctive thing to do is to step to the left to try to catch your balance, because you're standing up, and there's nowhere to go. It's a little bitty space. So, you step to the left, your foot goes out, and if the foot gets crushed between the forklift and something else, it gets crushed badly. Because these forklifts, they're small, but they weigh as much as two cars.
So, his foot got crushed. They tried to save it, but they couldn't. They had to be amputated. We came into the case, and we learned that one person every eight days, United States, gets their foot crushed on a standup forklift.
Sari de la Motte:
Very outrageous.
Michael Cowen:
So, we took on the case. Once we got into the case, we learned that the forklift industry has won every trial for over 20 years, that they have developed a strategy that was very effective, of basically saying that what the plaintiffs wanted to do, which was adding a door to the forklift, would create a bigger danger, because if the forklift tipped over or went off a dock, that people would get brain injured or paralyzed or killed. So, we were trying to trade feet for brains and necks and trying to trade prosthetics for wheelchairs, and really trying to... I don't think so much trying to say the plaintiff's trying to make so much an unsafe choice, it's that they were making a reasonable choice, and it was a hard trade-off and you can't hold them responsible for that. So, we knew that we had a big hill to climb because it had been so long since the plaintiff had won one of these cases.
Sari de la Motte:
And so that's where I was going to go next is what were some of the issues in the case? And it sounds like they were really playing one of the themes that we tend to use in plaintiff cases, which is, "Always go with the safer option." And so, they're like, "Look, this is the safer option to not have the door." So, talk to me, whoever wants to speak to this, and both of you can if you like, what were some of the main issues in the case that you had to overcome?
Michael Cowen:
I think one of the biggest ones is that the industry had taken over the committee through the American National Standards Institutes that writes the standards for how forklifts should be designed. And they changed, around the time they designed this forklift, they changed the standard to say that it's preferable to design it without a door. So, their written standard that it's supposed to be the industry standard, said, "You don't put a door on this forklift," preferably.
Now, we found ways around that, but that was a big, big challenge. The other big challenge is that these things don't happen unless the operator makes a mistake. If the person operating the forklift is doing everything perfectly, then it's just like a car. If every driver drives perfectly, there's never a crash. And so, for this to happen, our client had to have made a mistake and we had to own that.
I think another thing is that everybody designs standup forklifts the same way. And it's like, "Everybody does it this way. How can you hold us? You're trying to say that you know better than the whole industry." I think, Malorie, those were the big ones. Is there something I'm leaving out? Oh, our kid wasn't trained properly. That wasn't on him, but his employer. He thought he was trained properly, but his employer, he had operated a different kind of forklift. He thought it would be okay to operate this one because he was told to, but he wasn't trained specifically on this one.
Sari de la Motte:
So those are some humongous issues to overcome. So, I am really interested to see what you did to overcome those. Malorie, you want to speak to some of that or?
Malorie Peacock:
Yeah, I can. So interestingly, Sari, we split the case. Michael and I, pretty much completely 50-50.
I handled all of the damages pieces of the trial and Michael handled all the liability. He's probably better to speak to overcoming the liability hurdles, but that was an interesting way to split the trial, and I think it worked out really well and played to both of our strengths, but literally 50-50. So, I did half of the voir dire, I did the part on damages, I did the half of the opening on damages, I did the half of the closing on damages and did all the damages witnesses. And then Michael did all the liability stuff. It was actually fun to split the trial that way, but Michael could probably talk a little bit better how we overcame the liability issues.
Sari de la Motte:
Well, I want to just pause there for a minute and just talk about how brilliant that is. I think you all know that I don't love it when people split, "I'm going to do voir dire and you do opening," or, "I'm going to do this, and you're going to do that." And this was so beautiful, because they got to see you, both of you throughout the trial, in those various places. And the Dram Shop case that I constantly talk about on the podcast, we had three attorneys. We did something very, very similar. The person who was dealing with liability and voir dire also dealt with it in opening and so on and so forth. So just want to give you kudos there. And I'm so glad that that worked beautifully for you. It sounds like it did. What a great idea.
Michael Cowen:
It was critical, because we were talking about it, and Malorie was going to be the person to ask for the money. So how can Malorie ask for the money if she doesn't have a relationship with the jury?
Sari de la Motte:
That's right.
Michael Cowen:
But then I loved doing this stuff too much to totally give up the voir dire and opening, and I felt like I had something to add, especially on the liability part of it. So, splitting it worked well.
I don't know if it would work as well if Malorie and I had not tried so many cases together and had such a great comfort, and had... We really spent the time to make sure we're on the same page, using the same language, the same strategy, the same themes. Because sometimes when you try a case with someone else, you're trying two different cases and that doesn't work.
Sari de la Motte:
No, it doesn't. And I will take this opportunity, too, because I tend to speak more to Michael than I do with Malorie, that Michael cannot say enough amazing things about Malorie. He just sings your praises every opportunity he gets. So I just also wanted to give you both kudos for having such a great relationship so that you can go and get these types of results for your clients. Because to me, at least, it appears that there's no ego here, and it's just this wonderful collaborative relationship that the two of you have created.
Michael Cowen:
And I'm so glad you have Malorie on here too, because it would be such a fraud for me to claim that this was my verdict, when honestly, Malorie did 80% of the pretrial and 50% of the trial. So, I mean, if anything, it's more hers than mine.
Sari de la Motte:
All right, well we'll have you log off now and we'll just talk to Malorie, then.
Michael Cowen:
I think I had played a lot to do with it. I'm not going to sit here and say I'm nothing. But at the same time, Malorie is going to... Malorie and I do things, we're on the same page, but we do things differently. There are jurors I think she connects with better than I, and vice versa. And I think by doing it together, it really works a lot better than me doing it on my own. In fact, three of my four biggest verdicts, I tried with Malorie.
Sari de la Motte:
Wow, we love Malorie. I've worked with Malorie as well. And of course, with you, Michael, and you're both just fantastic trial attorneys, so I'm not surprised at all at this particular result.
All right let's go back to our original question then, Michael. So, how'd you overcome some of these major things?
Michael Cowen:
Well, we talked to some of the lawyers that had gotten red ribbons on these cases and decided to do things differently. One thing is that they had fought this whole concept that, "Well, you put a door on there and then if it tips over or goes off a loading dock, you need to try to jump out." And I really didn't like the idea of making this about that they really had two reasonable choices and they made the best choice they could. And we're trying to say that their arguments aren't good arguments. And so, we just said, "We will accept that it's a bad idea to be in a forklift that tips over, goes off a loading dock. Now how can we make this forklift one that's different, where we can still win?"
And Jill Fried has a saying, "How can they be a hundred percent right and still win?" And so we did that. We didn't claim, "Well, it's better to stay in and hold on and try to brace yourself." We just really looked, and this particular type of forklift isn't supposed to be used for loading and unloading trucks. It's not designed for it.
Malorie deposed the distributor who sold it and he said, "Yeah, we tell our customers, these are not made for loading trucks. Don't load trucks." She deposed the trainer at our client's employers, says, "Yeah, we do not allow our employees to use these to load trucks." So, we can scratch that out. Now that's an excuse, going off the dock, because these things aren't used to load and unload trucks. The other thing is they said, "Well, what if it tips over?" And in their testing, they really had to rig the forklift to get it to tip over. It was really hard to tip it over. You're not supposed to drive around with a load up high.
They had to put 4,500 pounds, raise it up as high as they can, pull it to full speed, jack the steering wheel, hit the brakes, and even then, it wouldn't tip over unless they unbalanced it first. So, they had to make it like that table with the legs, you go to the restaurant and the table's shaky, because one leg is shorter than the other. Well, they had to make one of the sides lower than the other. And then they had to switch out one of the wheels a wheel that gripped more. So, we had to say, "Look how they had to run it six times. Only the sixth time, when they super rigged it, could they get it to tip over."
And I think the coup de grace on that was we got them to admit that on this model forklift, other people had lost their legs, but while they claimed that it must have happened, they could not point to one real world incident where one of these had gone off a dock or tipped over. I think that was one big thing that we got lucky on.
Sari de la Motte:
I just want to pause there, too. Brilliant, brilliant. Because I think a lot of attorneys would go in and go, "Well, we can argue this in a slightly different way and with a different jury." And you're like, "Listen, this has been tried. We're throwing it out. How do we make them not be able to use that, and use a completely different argument?" Brilliant. Love it.
Michael Cowen:
The other thing is we threw it back on them. We said, "Look, we could prove that you've known about this problem since at least 1987."
We didn't just make it about, "You need to put doors on forklifts." We said, "You've had a problem. Hundreds of people have lost their legs. You've known about this since 1987. Now let's look at technology between 1987 and 2012 when you built this forklift." You want to go watch a movie at home, what did you have to do? There wasn't even Blockbuster yet. You had to go to a local video store and rent a VHS tape. By 2012, you can log on to Netflix streaming. We talked about cell phones, the iPhone, and just, on cross-examination, when you give an engineer a task and you give them time and money, they can do miracles. "You're telling me that in 25 years, you couldn't figure this out?" And we talked about different things they could have done. It doesn't have to be a door. You could put a seat with a seatbelt in it, and that way you're better off in all circumstances. In fact, you did that in Europe since the nineties. You just didn't sell it in the US. Didn't really have a good answer for that.
Sari de la Motte:
I love it. What you're really getting at now is the piss off point. So, jurors are like, "Well, shit happens, right?" That's what we're always worried about with jurors. But here you're saying, "You had all of this time and the advances in technology to deal with this, and you chose not to." And so now we have a great piss off point. Love it as well.
Michael Cowen:
And so now we can go back into how we used some of the H2H things. So, what's our ideal juror? Our ideal juror believes, if there's a problem, a company has to try to fix it. So I asked the jurors in voir dire, "If a company knows people are getting hurt on their products, what should they do?" And well, they should recall it, they should fix it. And we got everyone to agree to that. And then in our opening, our first witness was our expert. Before we went into anything about this product, we taught the jury, what does a company have to do to safely design a product? You have to identify the hazards. You try to remove them. If not, you try to guard against them. Warnings aren't good enough. You have to try to fix the problem, because if you don't, people are going to get hurt. And used literature and showed them that this is the way to do it, and then showed them what they did wrong.
Sari de la Motte:
Yeah. So what Michael's talking about, for those of you who are new to the podcast, or unclear is, in voir dire, what we start with is the problems. Basically, what we started with today, in today's podcast, "What are the problems in this case?" And then we go to, "Well, what would an ideal juror believe about that problem?" Because we want... Lots of times people will ask me, "Well, what do I ask in voir dire, Sari?" And I always say, "What do you want to know?" You always have to know what you want to know. And so we always create the ideal juror profile to go, "Here's the people we're looking for. They believe these things." But then Michael, you also talked about an opening, where we talk about, to teach what should have happened and then to show what happened. So there's this nice comparison and the jurors go, "Wait a minute. They didn't do what you said they should do."
Now, David Ball and other people have said, "You don't have permission with the jury to teach what should have happened."
Well, that's because most people don't do voir dire the way we do at H2H, which is we get it from the jurors first. I don't need permission.
They already told me that companies should do these things. Now you may be adding some of the other things in your opening that you couldn't get out of them in voir dire, but I'm so glad that that worked for you. Let me just switch gears for just a minute. Malorie, how did you approach voir dire in terms of the damages?
Malorie Peacock:
This is something that a lot of people have asked us, is we only had an hour for voir dire, which is always scary, especially when we were splitting it. We were both very nervous about that. We wanted to make sure that we used equal time for liability and damages because even though the damages seemed obvious, he lost his leg, the number wasn't obvious. So, we talked, and then there's some weird case law that's developed in Texas about how do you get jurors to get to the big numbers. And so actually, we used almost a "Jury teach me how to calculate damages," method.
We took from the H2H method but tweaked it a little bit. And I asked the jury, "How do you figure out how to compensate people?" And they came up with some ideas. The other thing that we did is we said the number in voir dire. We didn't surprise them with it later, we said it right away.
Sari de la Motte:
You know I love that.
Malorie Peacock:
So, we did. I mean, we put it out there. We said, "We're going to be asking for $38 million. And that's that." We said it authoritatively and we got the people off our cause that just were horrified by that number. And surprisingly, there weren't as many people as I would've thought that were horrified by that number, because we talked about how to compensate people before we threw the number out there. We didn't just throw it out as soon as we stood up. I think that that helped, too.
Sari de la Motte:
Well, and I think that's what a lot of people do. They're like, "I'm just going to throw out this number and then see what they think, and then I'm going to throw everybody off who's horrified." And what I always say is, you don't know what they think. It's too early. Their brain has not, they can't even process it. You've got to walk them there. And so, one of the things I love that you did, Malorie, there, is make the jury solve your problem. "So how do we do this? How can money help? What can money do?" And get them cogitating on that and thinking about it and then saying, "Well, what we're going to ask for is this," and owning it. Love it, love it.
Malorie Peacock:
Then we didn't change the number. I think that's important, too. We thought hard about what the number should be and how we were going to calculate it. We said it in voir dire. We said it in opening. We said the same number in closing. The number flowed along the whole way and we didn't change our strategy midway through or anything and surprised the jury with a bigger number or smaller number later on.
Michael Cowen:
You also didn't just pull the number out of the air. You spent a lot of time struggling to figure out what the right number was and why it was fair and why it was the right number.
Malorie Peacock:
I did. I think that's important. And I think, Sari has taught us that too, is that you can't just say shit. You have to believe it, right? I mean, if you don't believe it, they're not going to believe it. So, I had to come up with a number that I was convinced was the correct number in order to say it with authority. If I just throw out a number that's a hundred million dollars and I don't believe it, the jury's not going to believe it, either.
Sari de la Motte:
That's right. And you know what it also reminds me of is when we're teaching how to talk about damages in voir dire, at one stage of the process, I say, especially when we're doing price versus value, there's these things that come with a price tag. Your economic damages, those are the easy damages. And there's things that don't come with a price tag. Those are the non-economics. And right around that part, I teach the lawyers to say, "Here's the bad news."
This is difficult. This is hard. These are the damages that are hard. And a lot of attorneys will say to me, "Sari, don't tell them that that's hard, because then they won't do it!" And you know what I said? I said, "It is hard! That's why we say it's hard." You just said, Malorie, you struggle. I said to my attorneys, I go, "Don't you struggle coming up with the number and figuring out what the right number is? Why do you get to struggle and then we pretend it's this easy thing that jurors have to do?" It's honest to say this is difficult, and who here is willing to try? That is a whole different ball of wax when you're in voir dire.
Talk to me, just to stay on voir dire for a minute. I love voir dire. Talk to me, Malorie and Michael, about pre H2H voir dire and post H2H voir dire.
What has changed for you, having come into this world in terms of how you do voir dire?
Michael Cowen:
Malorie, I'll let you go first.
Malorie Peacock:
So, Sari, before I worked with you, because we've known each other now for a number of years.
Sari de la Motte:
Long time.
Malorie Peacock:
Before I worked with you, I'd probably only done voir dire a couple of times. And really, I would just go off of a script. I mean, it was very scripted. It was just sort of like, "Here's the questions I have. Give me your answers." And then I didn't really know what to do with the answers. I mean, it was sort of like, "I got these answers. Now what?"
I think the most important thing that you've taught us about voir dire is, well, two things.
One, you have to listen to the answers that people give you and really reflect on the answers that they're giving and see what other people think about those answers. You're not in a one-to-one conversation. It's a conversation with a group of people.
And then two, that when people tell you something you don't like, you should like it, because it's a gift to you.
Sari de la Motte:
For sure.
Malorie Peacock:
It's actually more important that the people are telling you things you don't like than things that you do. And it helps create that conflict, I mean, I guess constructive conflict within the panel itself, so that they're coming to the answers themselves. They're defending your points as opposed to you doing it.
Sari de la Motte:
Absolutely. I was just going to say, and you said it for me, but it's not just so we hear the bad jurors, and we can get rid of them. It forms a group. Oftentimes they'll form around a negative answer. They'll be like, "What?" And so it's a great thing when that happens. I always go, "Ooh, this is so fun that this is happening," when you know how to handle it, which obviously you guys did.
Were there any surprises in voir dire, speaking of quote-unquote "badgers" where somebody said something just off the wall and you didn't know what to do with it, or you did know what to do with it and handled it?
Michael Cowen:
No. I mean, there were people that said things like basically they hated our case. "People should be more careful. You shouldn't go sue product manufacturers," that asking for this kind of money is ridiculous. But we expected that from some people. And that's okay.
Sari de la Motte:
Well, and that's the other thing about voir dire I hear all the time, "Voir dire is so scary because I don't know what they're going to say," and I'm like, "You do know what they're going to say. Come on, now." We do know. We know the negative things, at least. So, all that's rest is the positive.
Michael, how's your voir dire changed?
Michael Cowen:
I think the biggest way it's changed is internally. I used to go in there scared that someone's going to want to screw me over or they're not going to believe me or I'm not going to be good enough. And now, I just tell myself before every trial, "These are good people. They're coming in here, taking time out of their day for very little money. They want to do the right thing. I'm going to trust them to do the right thing."
Now, some of them, because of their experiences in life, may not agree with me on what the right thing is, and I want to talk to them about it. They might not be the right person for my juror, but I'm going to trust them. They're good people and I'm just here to listen without judgment. I don't take any notes anymore. Other people on my team take notes. I don't think about it, unless it's just right there. But I'm not looking to exclude someone. Now if someone says, "I could never give this kind of money, or I could never do that."
Sari de la Motte:
For sure.
Michael Cowen:
Like I said, it doesn't mean I don't like them. There's lots of people. I'm in a world where there's lots of people that I fundamentally disagree with things, but I still think they're good people and I don't like them. They just view the world very differently than I do. I just think of jurors the same way, and it's just become so fun.
Sari de la Motte:
Tell me why. Yeah, I love that answer, that it's become more fun. But tell me why that changed it for you. Why is not viewing the jury as your enemy, which is what so many attorneys do, how did that change for things for you?
Michael Cowen:
Well, I think because now the juror that may not have been as receptive to my message had I think it was subconscious. I think if you look at a transcript, you wouldn't see as much of a difference. You'd see some framing questions, putting things in context. But I think when you're there, you would see the difference, in that when the person says something that maybe might not be good for my case, that I'm not subconsciously showing that I disagree with them or that I'm scared of them or that they're going to hurt me. It's just I'm like, "Tell me more." I'm still thinking they're good people. I might not think that they're like I said, right for this jury. And I might even tell them that depending on the context.
Sari de la Motte:
There's a confidence piece here that I'm seeing, too. And I notice, also, that your language is very, and you've said this many times, your language is very careful. You continue to say, "My case, not good for my case, not good for my case." Where most attorneys will say "Not good for me, not good for me." And I think that's important. I just noticed it. I just pinged on it when I was hearing you, is you're being clear this isn't personal. This isn't about me, Michael, or me, Malorie. It's they aren't the right juror for this case. And you've been able to separate yourself from that.
Michael Cowen:
And whether I'm a good lawyer or not has very little to do with the result. I could screw it up and guarantee I'm going to get a bad result. But I tried a case a month before that nobody's asking me to be at a podcast about, and I'm not putting on any of my firm website or anything because the result wasn't good. But I was a good lawyer in that case.
Sari de la Motte:
Yes, that's right.
Michael Cowen:
The case wasn't as good.
Sari de la Motte:
That's right.
Michael Cowen:
I mean, I'm sorry. In fact, I thought I was going to win the one before. We got a verdict, but with a little tiny V on the one before. I'm not proud of it, and I thought I was going to lose this one. I was going in there just purely to have fun. I thought there was a 90% chance we're going to lose. I was not a better lawyer in one or worse lawyer in the other. I just go in there, I have fun, and I don't worry about the verdict when I'm picking a jury. I'm just worried about talking to these people and seeing what they have to say.
Sari de la Motte:
I just love that. And you know I talk so much about that. You cannot take your worth as a trial lawyer. And it's like if I win, it's good. If I lose, I'm bad. That's the way it'll be, up and down the whole time. We win cases that we should have lost, and we lose cases we should have won. And a lot of that is out of our hands. Malorie, talk to me about your mindset in this trial, or trial in general.
Malorie Peacock:
The good thing that I think that Michael has taken away, I think from a lot of work with you, frankly, is that we have to go into the case ready to have fun. Do our best job that we can, but also not attach ourselves too much to what the result is. Constantly, that's the message that we're hearing from Michael, that we're working on together, and that when we go into this trial, our thought is, "Okay, let's go have some fun."
And the good thing is that me and Michael have been trying cases together for a long time. It is fun for us to go try cases together. We have a good time doing it, and we trust each other so much that we can let go a little bit, right? He's not worried whether I'm going to make the right objection and I'm not worried whether he's going to make the right argument because we're on the same page, so we can let go of some of that stress, and going in without that stress is, one, we have more fun. But I think, two, it gives us more confidence in front of the jury. It makes us not look desperate. It makes us look like we got them. Right? We got you. We are going to get you there. Don't worry.
The jury doesn't have to be stressed out either, because if one person is stressed out, the jury feeds on it, and they start to get stressed out about what they have to do. So, I think we went in with confidence, but also low stress, and I think it made the jury not feel stressed.
Sari de la Motte:
Well, for sure, because the jury takes their cues from you. Their breathing cues, as y'all have heard me talk about. But also, when you're so focused on the number, what do all people in the universe think about plaintiff attorneys? You're all in it for the money. Well, if you go in there and you're like, I'm here for the verdict, even just subconsciously, that's what you're going to communicate versus what Malorie's saying, which is taking, I love you when you said that, just taking care of the jury. Being in service to the jury and helping them do their job. They ultimately decide, not you. Michael, did you want to add to that?
Michael Cowen:
Yeah, I do. And it's almost a zen thing. It's hard to put it into words. It's not that we don't care.
Sari de la Motte:
That's right.
Michael Cowen:
We really want to win. We really loved Chris, our client. We really believe that what happened to him was wrong. We really believe that the forklift industry needs to change. So, it's not that we don't care whether we win or not, and not that it doesn't hurt if we don't.
Sari de la Motte:
That's right.
Michael Cowen:
But at the same time, it's an acknowledgement that we do not have control over that. It's not our job to win or lose the case. Our job is to give the jurors the tools they need to do their job, and then they have to choose to take those.
The whole trial is about the jury and the jury's journey, and they're the heroes of the story, and just learning to trust them. If you want someone to do something for you, you have to trust them. It's like my kid, when my eldest son, he is a freshman in college now, when I was on him every day when he was in junior high and checking online, "Did you do your homework? You got to study." He fought me. And it was a battle every time. When I let go and say, "Look, it's your life, I'm going to trust you." He struggled for a little bit, but he got it, and he started doing so much better.
It doesn't mean that I didn't say, "Hey, by the way, you have a test tomorrow." But my job was not to do his homework for him. My job was not to make him study. My job was to provide for the environment and give him a chance to succeed. The same with the jury. You have got to give them the tools. You need to be persuasive and passionate about your case. But you can't take on a burden that you can't carry, which is winning the case.
Sari de la Motte:
Well, and I think when you do take on that burden and you don't give the jury ownership of it, because you're so holding onto it so tight, they never feel like it's theirs. I know, Michael, you mentioned once that you just loved it when I said, "Stop calling it my client." If it's your client, Michael, or your client, Malorie, then it's not the jury's client. They've got to have ownership of it, and they can't have ownership of it unless you give it up and trust them to do that.
Now, you know that I just had a podcast three or four weeks ago called Eight Steps to an Eight Figure Verdict, and two of the things in there, I took from my VIP clients, Michael, who has been one... And now we call it the mastermind program, by the way. I don't know if you had listened to it, but two of the things I was wondering, if they resonated with you, Michael, were, first one is you got trusted jury, which is what we've been talking about. That's the first step to getting your eight-figure verdict, and this was your first eight figure verdict. I want to talk about this now. But the second step was to let it go and not have it be the goal anymore. Has that proven true for you on this journey to this eight-figure verdict?
Michael Cowen:
Yeah, if you remember, I know you have confidentiality, but I can say it, because it was my confidence.
I had a list of goals when I started working with you, and one of them was to get an eight-figure verdict. And I felt, even though I was making a ton of money, I'd had eight figure settlements, I had not had an eight-figure verdict, and I felt somehow incomplete or inadequate because I didn't have one. By the end of this, in the last two or three years, I didn't care anymore whether I ever got an eight-figure verdict. And it's not that I didn't want one, but it's just like it was not something that was within my control.
I mean, most of the cases I had where we're likely to get an eight-figure verdict, we were getting great settlements, and it didn't make sense for my client to take the risk. And it's about them. It's not about me. I just was happy with where I was. I was happy with my skills. I was in trial having fun, and so I didn't go into this trial, necessarily, I knew it was a possibility, but it was not an expectation and it's not something I was worried about. And so, yeah, it's funny.
I texted you about it after the verdict. Once I stopped caring about whether I ever had an eight-figure verdict, and once I realized that had nothing to do with my worth and value as a person or as a lawyer is when I got one.
Sari de la Motte:
Well, I wonder who keeps saying that, but that is so true of all of my mastermind clients, is they come in and they all have that on their list. "I'm here because I'm successful," because most of them are successful. You'd have to be when you're paying my prices. And they're like, "But I haven't gotten this thing yet." Or maybe it's the nine-figure. But it's like this thing. As you know, Michael, having gone through the program, the first thing that I have you do is set it down. I say, "I'm not saying we don't want it. I'm not saying we're not going to get it. But the first thing we're going to do is just set it down."
Because when you're using that to validate how good of a trial lawyer you are, that gets in the way of doing the actual job of trial lawyering itself. So how do you think putting that down assisted you here in this case,
Michael Cowen:
Because it wasn't about me. The client, the case, was about the juror. It was about the community, and to a lesser extent, it was about Chris, our client.
It was about an industry that is letting people get hurt, that has the power, that can fix it, and chooses not to. It's about a jury that has the power to make the world a better place by sending a message that will hopefully get the industry to change and fix things. Hopefully get other employers to buy safer equipment if the industry is not going to make it safe, and then hopefully help a young man that really deserves and needs the help.
So yeah, I think that's a big thing, because jurors aren't motivated to let Michael Cowen get a lot of money or put up a bill forward or a website talking about a big verdict I got. They don't really give a crap about me. To a lesser extent, I think they sometimes care about our client, but I think-
Sari de la Motte:
That's the thing, though, isn't it? I had a client who lost a very big case, and he was texting me, and he said, "It just drives me crazy that my client was not acknowledged." And I said, "Where the fuck did you get that idea? You acknowledged the client; you took this to case. You stood up for the client. What the jury decides to do, that is separate from what you did, which is stand up for the client," and I think we schmoozed them all together. Malorie, what are your thoughts on all of this?
Malorie Peacock:
One of the things that I think was really telling, and I think it tells us that we did our job with the jury right and we didn't make it about us, is that after the verdict came back, the jury struggled with it, but it was a unanimous verdict. They struggled. They were out for a day and a half-ish, so they struggled with it. But not a single juror wanted to talk to me or Michael. They didn't feel the need to explain themselves to us, because they didn't feel like they were answering to us. They felt like they were answering to the purpose of the case, and they knew that they did something big and that they did something important. But it wasn't about getting the thanks from me or Michael, which was interesting, because in other cases where jurors have given us big verdicts, I think they want to talk to us. They want to say, "Hey, we fought for you. Hey, we did this for you," and this jury wasn't doing it for us.
Sari de la Motte:
Yep. They're like, "We're done here. We got this, we got this.
So tell me what advice would you give to other trial attorneys attempting to get that eight figure verdict?
Malorie Peacock:
One thing that we haven't talked about, that again, something we learned from you, Sari. You're filled with all this wisdom. But something we've learned from you that we haven't talked about, is simplifying the case, which we really had to do here.
This is a product liability case. They can be very complicated if you want them to be. And there was, before our expert went on the stand, he was like, "Oh, the case is just so complicated." And I said, "If you can't explain it simply, you can't explain it at all." And he goes, "That's a really good point."
And in this product liability case, we used Sari's flip charts. We wrote things on flip charts. We didn't use complex animations and complicated exhibits, because you can over-complicate a case where the jury just doesn't even get it. They don't even know what you're talking about. They don't know where you're going with it. But I will say all of my direct examinations of all of the witnesses that I did involve flip chart writing, which I thought, "Sari' would be proud of," but the simplification of everything, I think, it was so critical, especially in something like this with a product liability case where you can get very, very technical and very complicated. Finding a way to simplify your case, and then just giving it to the jury and saying, "Jury, this is your case. This is your responsibility, and this is your case," is so important, I think, to getting good value on your cases.
Sari de la Motte:
Love that. Love the flip charts. You may have heard the podcast where John Bailey was talking about how he tried his nine-figure verdict case on flip charts. He's like, "I know about the flip charts, I just tried the whole case. I didn't use a single PowerPoint." I'm like, that wasn't the point. You can use PowerPoints. And he's like, "No, no, no. I wanted to do the whole thing on flip charts."
I love flip charts because it makes you seem like a teacher. It makes it seem simple and it makes you feel like you know this so well you could just write out a few things to explain this very simple thing. When we have hundreds and hundreds of PowerPoints, it's like, "Oh my God, this is so complicated." And as Rick Freeman says, "Something complicated is not good for the plaintiff."
Michael?
Michael Cowen:
Same. Yeah, I agree with Malorie a hundred percent on that. We really worked on simplifying it, like "There's a danger. People are getting hurt. The company's had 25 years. There's lots of ways they could have fixed it. They chose not to." That was, that it. And just trusting the jury made things super simple, especially when cross-examining their people, not getting in the weeds on these little bitty technical things. They wanted to make a big deal that our expert was wrong. "It was 3.9 miles an hour versus three miles an hour. 15 degrees versus 40 degrees."
We didn't go into any of that. We're just like, "There's a problem."
They tried to go into all this stuff on the bottom mechanics, like, "Look at the broken foot. Look at the X-ray. You can see where the force sideways pushed the bone there," showed the picture, trusted the jury to get it, didn't go into every little thing. And learned not to make every argument we can make. Just simple, trust the jury that our winning points are going to be good enough, and it really helped.
Sari de la Motte:
Well, that's the defense's job, is to come and make a mess of everything. The plaintiff's job is to have this clearly communicated theme, and everything connects with that theme. Their job is to come in and try to mess it up and get into the weeds about what, but oftentimes we jump in after that and we are like, "No, no, no, no." And then we're running their case versus our case. Let me ask you about opening. How long was your opening? I know it was probably longer than 30 minutes, because two of you were doing it, but...
Michael Cowen:
I don't think that it was.
Malorie Peacock:
I don't think it was. I think it was only 30 minutes. I think it's all we got.
Sari de la Motte:
Oh my God. Love that.
Yay. Yay. Let me just put this for all the listeners. You got an eight-figure verdict on a 30-minute opening. Thank you very much. What was that like, having such a short opening?
Michael Cowen:
I think we could have gone a little longer if we asked to. I think that... I can't remember whether it was 30 or 45. We didn't take 45 though. It was a simple case, so it didn't need to be complicated.
Sari de la Motte:
That's just along the same vein, right? The longer the opening, these two and a half hour openings we're saying, "This is so complicated. This is so complicated."
Michael Cowen:
That's something I learned from you is that if I'm telling the jury, it's a simple case and then I go into a bunch of complexity, then my actions and my words are incongruent.
Sari de la Motte:
In addition, if I spend the majority of my opening and/or trial on defense points and undermining them, then I'm saying that those are really, really important. I've spent all this time talking about how they're wrong, which really does the opposite of what we want it to do.
Malorie Peacock:
The other thing I think that was important that we considered for the opening is I did talk about damages, but we talked about damages more in the vein of, "Okay, how did this happen?" Rather than, "This is so sad for Chris, our client, these are all the things you're going to hear about. How terrible his life is and how painful this injury was," and all this stuff. Because we didn't think that we had permission yet from the jury to talk about the gruesome injuries and damages.
We know that you don't win liability in voir dire. We had to prove it to them first before you can go into all of the damages. And we didn't want to look like we were trying to get sympathy really early on. We did limit the damage talk in opening because we just didn't, just from what we could tell from the jury, we just knew that, and from the panel, we just knew we didn't have permission to get into all that gory detail yet.
Sari de la Motte:
Did you get on the floor and writhe around? Because I've seen you do that.
Malorie Peacock:
I did not! I did not. I did act some things out about-
Sari de la Motte:
That's great.
Malorie Peacock:
The crushing and where the injury was and things like that, but not on the floor this time. The client did not fall down.
Sari de la Motte:
Is there anything that you would do differently had you tried this case again? I love this. I love that this is taking so much time, right?
Malorie Peacock:
I don't think so. I mean, I think it came together the way that we wanted it to.
Michael Cowen:
The only thing I think worked out is we spent a bunch of money to make three life-size mockups, one of our forklifts and two of our safe alternative designs, and we measured the doorway and they would've fit into the doorway. But it was like a glass door that has one of those metal handles on the glass door, the bar. And the bar blocked them. We could not get them in the courtroom.
Sari de la Motte:
I'm sorry to laugh. That's crazy.
Michael Cowen:
That was a huge mindset thing, because five years ago, I would've been all freaked out. My team was freaked out, not Malorie, but my other team members were all freaked out. "Oh, it can't fit in." And it had been a huge battle about whether we were going to get to use these or not, and that we'd finally won and then we couldn't get them in. And I'm just like, "Okay, they don't fit in. Take them back." And everyone, "What?"
They don't fit. Take them back. Nothing we can do could change the laws of it. So, the only thing I would do is just make sure we measured things a little bit better before we spent that money.
Sari de la Motte:
Michael, you are a mindset master. I'm just saying. I love this, Malorie, go ahead.
Malorie Peacock:
I was going to say, I don't even know if I would use them. So honestly, I don't think we need to measure the door better, because I think they made it too complicated. Again, I think keeping it simple was the right move, and that forced us a little to even more simplify the case. But honestly, I think having those big things would've made it more complicated. So if we tried it again, I-
Sari de la Motte:
Almost feels like it's the universe.
Michael Cowen:
It was-
Sari de la Motte:
Feel like it was the universe like, "Michael's really let go. We're going to give him his eighth figure. No, no, no, no. Let's not." All the things. And I talk to Michael, obviously it was yours too, Malorie, but Michael having been my client all those years. I just love that. It's almost like, "Nope, we're not even going to allow this in here. This is going to screw everything up."
So let me ask you this. You had said earlier, Michael, when we were talking about how great Malorie is, and she is fantastic, and you said, "Well, I'm not going to put myself down here, right? I also was part of this." Both of you are just brimming with confidence, and you know that I teach in my work that part of this is really owning your amazingness before you have all this evidence of it. Talk to me about the importance of that, because I feel like so many attorneys are like, "No, no, no, I can't say that I'm a good attorney unless I have all the things," and talk to me about how the confidence has helped you become and step into this place where you both are now. And even before the 17.5.
Malorie Peacock:
Well, I think it helps to have people in your life that support you a hundred percent and that... I mean, me and Michael tell each other that we're great all the time, so that really helps. And when you hear it all the time, you believe it. When Michael Cowen, who's to me just an amazing, brilliant lawyer, tells me that I'm amazing. I believe him, and I hope Michael feels the same when I tell him he's a brilliant, amazing lawyer. He believes me. And it's because we see ourselves in each other. And trusting each other helps us build our own confidence. The fact that Michael Cowen, who's this brilliant, accomplished, successful lawyer, trusts me to do this, gives me all the confidence I need. I think having someone have your back a hundred percent really helps.
Sari de la Motte:
I just love this relationship so much. Michael?
Michael Cowen:
I think the hardest person I've ever had to persuade on this has been myself. I think it's been a very difficult journey for me, personally, to believe that I'm great. I would self-sabotage a lot. I had a big saboteur voice in my head. It took a lot of work with you, a lot of therapy, frankly, a lot of not just winning other trials, but losing other trials and surviving I think has been an important part of my journey to realize that you can go there. You can do everything perfectly and it's not about you. Both having succeeded and failed I think were both important parts of that.
And I think without success... I mean, if I'd done nothing but lose 30 or 40 cases in a row, it would've been hard to have any confidence.
Sari de la Motte:
For sure.
Michael Cowen:
For me, it's a lot. It's been a lot of work. I'll be perfectly honest. I think the work I have done to try to accept that I might be a good lawyer... Actually, let me rephrase that. I might be a great lawyer. I always thought I was a good lawyer, always thought I was good at the law. But to open my mind to the possibility that I could be a great lawyer, to realize that there is no secret sauce, that there's not someone else out there that has the formula or has the magic thing, that they can do something that I can't, that has been the hardest work, but I think the most valuable work that I've done.
Sari de la Motte:
And I am so honored to be a part of that, because that is the work. That is the work. It all starts from there. All the other things, the skills and the experience, get layered on top of that. But you have to start with, "I'm valuable. I'm worth it. I can do this."
Well, I want to acknowledge both of you, and again, congratulate you on your win. And Michael, you also are owed a big congratulation for Big Rig Justice, your brand new book that Trial Guides has just released. If you've not gotten that, you can go to trialguides.com and pick that up. And you both have something coming up called your Big Rig Bootcamp who wants to talk to me about that and let our listeners know how they can attend that next July?
Malorie Peacock:
Mike, I'll let you talk about it.
Michael Cowen:
We do a seminar once a year, Cowen's Big Rig Bootcamp. If you want to check it out. It's Big Rig Bootcamp.
We go teach, and I do a lot of teaching, and I always share everything I have to know, but you usually are limited to 30 minutes to an hour when you speak. We really go deep into trucking cases. We really try to share, and it's not about like, "I'm so smart, give me all your cases," but it's really about sharing what we know, things that are useful to try to make you a better lawyer, whether you do trucking or whether you just are a general PL lawyer. It's trucking specific, but it is helpful to all of it. And I really do encourage people. The cost is minimal. We have a little bit of a cost, to help offset some of what we spend for the food for the event. But we spend more on it than we take in. So I would encourage people to come to it. It's my labor of love. We had 200-something people last year. We're hoping to get over 300 this year. Come join us in San Antonio on July 14th.
Sari de la Motte:
Love it. And you're one of the most giving lawyers I know in this industry, again. Also, the podcast host of the Trial Lawyer Nation. Well, it has been my absolute honor to be a part of both of your journeys and to have you on the podcast today. Thank you so much for being here.
Michael Cowen:
Thank you for having us.
Malorie Peacock:
Thanks.
Sari de la Motte:
Have you ever wished that you knew what the jury was thinking? Well, grab a pen and paper because I'm about to give you instant access to a free training I created for plaintiff trial attorneys called 3 Powerful Strategies to Help You Read a Juror's Mind. It's going to help you to understand what the jury is thinking so you'll feel confident to trust them and yourself in the courtroom.
Ready for the address? Go to sariswears.com/jury/.
Enjoy.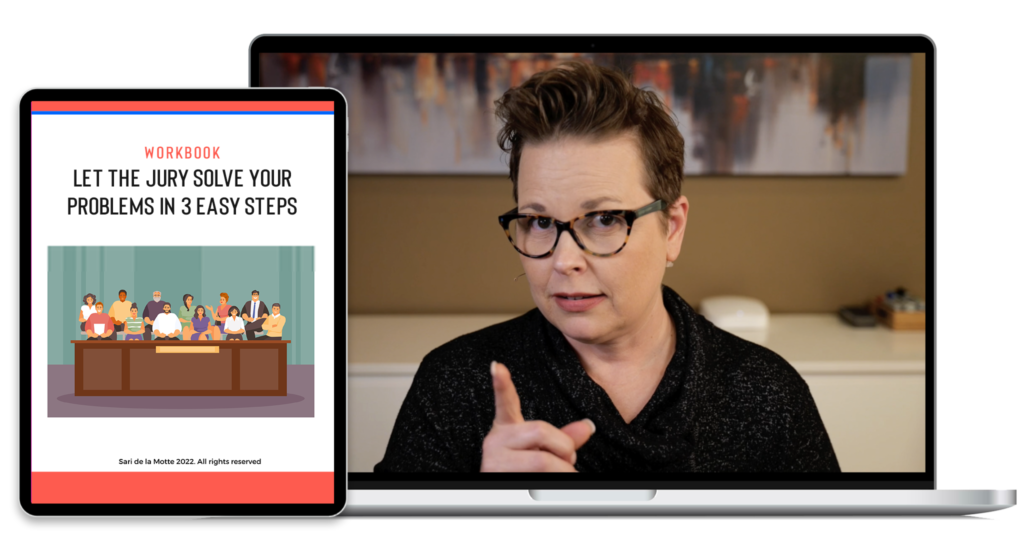 Free Training
---
3 pOWERFUL STRATEGIES TO HELP YOU READ A JUROR'S MIND
Let the Jury Solve Your Problems in 3 Easy Steps
Join me for a free training to understand what the jury is thinking so you have the confidence to trust them - and yourself - in the courtroom.
Use the H2H Funnel Method so that jurors tell YOU the principles of the case instead of you telling THEM.

Subscribe to the Podcast
Tune in weekly as Sari shares tips that will help you up your game at trial, connect with jurors, and build confidence in your abilities so that you'll never worry about winning again.
Sign up for trial tips, mindset shifts, and whatever else is on Sari's brilliant fucking mind.