"What's the best question to ask to ferret out a MAGA juror?"
I have LOTS to say about demographic questions, y'all.
So, when I was asked that question recently, I decided it would make a great topic for a podcast episode.
And today's the day.
In this episode of the FHTH podcast, I'm talking about how to find your MAGA jurors… and other worthless pursuits.
Enjoy!
-Sari
Mentioned in this episode:
EPISODE 212 TRANSCRIPTION
Well, hello everybody. Welcome back to another episode of From Hostage to Hero. Today we're talking about How to Find Your MAGA Jurors and Other Worthless Pursuits.
I was recently asked this question by another trial consultant I really admire and love, and I thought, Oh, I'm going to do podcast on this after he asked me that. His question was, what is the best question to ferret out a MAGA? What I mean by MAGA, MAGA, whatever, Make America Great Again.
By the way, I'm not here to make any comment on political parties or our former president or any of that. If you would like to know what I think about those things, you can friend me on Facebook. Sometimes people get confused. They friend me on Facebook and they're like, oh my God, she's so political. That's my personal Facebook page. If you would rather not hear that shit, then ask to be a part of the From Hostage Hero Facebook group, I don't allow any of that from myself or anyone else over there. That's just us playing with trial stuff.
This isn't a political podcast, but a lot of trial attorneys believe that your really conservative jurors are the ones that are going to screw you and so I wanted to do a podcast on how demographic questions of any type to me are worthless. At least when it's you asking. Now if we can get that information through a jury questionnaire, oh hell yeah. Let's find out about their age and their gender and their occupation and political party and all that because we could maybe use that information. I mean, information's information. I mean, I'm not ever going to say no to that, but to me, demographic questions are an absolute fucking waste of time. Absolutely. It is not going to help you in your voir dire. What? Yep. Not going to help you. Here's why.
First one is that you are functioning by using those questions because it's very old school, at least in my mind, in doing exclusionary voir dire and I do not believe in exclusionary voir dire. Exclusionary voir dire, if those of you listening don't know what I'm talking about, is where you are doing a voir dire with the express purpose of finding out your bad jurors and getting rid of them versus, we don't even say inclusionary voir dire because I think that's going way too far to the other side. What we talk about is issue-oriented voir dire, we may even change that to principle-centered voir dire, where we are talking about the principles in our case and the juror's beliefs about those principles and then building a team and as we build that team, we will of course get rid of people who don't fit. It's completely different mindset going into trial.
What most of you are doing when you are going after the demographics and you're asking who's a manager and doing all the things, is that you're just getting rid of these jurors. That's your whole express purpose. You come up with an idea of the "wrong juror", then you go in based on the demographic information and going, these people we definitely don't want, we don't want doctors, we don't want men, we don't want all the things and then you just throw the jurors off.
What you're really doing by doing that and using demographics to do that is being lazy. I'm going to come out and say it. That's lazy voir dire. You're just playing the odds. You're like, odds are conservative men over this age that are managers, whatever it may be, I just made all that up, are bad for my case. Instead of actually doing the work that voir dire requires, we don't even view it like work in H2H, we love voir dire, it's so much fun, but it is work to put a good one together. You're just playing the odds and you're just using demographics and I'm going to suggest that that is lazy.
Here's what I want you to, I'm going to continually remind you. The reason why your job is difficult as plaintiff attorneys is because what you have to do is you have to motivate humans to do something and motivation takes investment. When you spend your time on exclusionary voir dire, you are not getting jurors invested in anything.
I mean, go back several podcasts to go where I talk about the three reasons you're not getting your verdict. It all had to do with investment. You're not invested, they're not invested, nobody's invested, so nobody gives a fuck and then you don't get your verdict. When you're using demographics and doing lazy voir dire, you're not building anything.
I mean, it's like you're going to put together a party and you're like, okay, we're going to put this party together and in order for it to not go off the rails, there's certain things we don't want at the party. We don't want to invite these certain people and we don't want to serve these types of foods and we don't want to play this type of music and we don't want to play these types of games. Here's our party. I mean, you haven't decided what music you want to play, what games you want to play, none. Nope, games, do not play games. You haven't decided who you want to invite and you haven't decided what foods you do want to serve. You're just really clear on what you don't want. Guess what? You don't have fucking a party, right?
That's the difference. The party that we're creating in H2H is like, we're like, this is what we want it to feel like, this is what we want it to look like, these are the people we want to invite. Then if somebody comes in with their crudités because nobody eats that shit, we're like, okay, that's not the person for our party. We build the party and then we decide who doesn't fit the party. That's the first reason why demographics don't work is because most of you are using it just to continue in exclusionary voir dire and exclusionary voir dire does not work and just using demographics is lazy.
All right, number two, the reason why it's a worthless pursuit is that it causes you to guess. So often you'll be like, okay, these are the jurors and this one's a nurse and that one's a female and this one is a MAGA whatever and now what? What do we do with that? You can start making some delineations there. I think it's a waste of time because now you're just guessing. Oh, they're a MAGA juror, then they're wrong. Are they always? I know that conservatives are rule followers and can be awesome in our cases if they're the right kind. I know some liberal jurors that nobody here would ever want on their jury panel.
Listen, here's the thing about labeling people, which is what demographics do, well it's not what demographics do, it's you take that demographic and you create a label. This person is bad based on who they are. What that does, what labels do is it turns off your brain. When I label something, and this is why the brain labels things all the time, because if I label something, I can stop thinking and the brain is an incredibly efficient organ and it takes a lot of energy to think and do the things and keep us alive so whatever the brain can automate, it does and so labeling is one way of automation because it literally doesn't take any more time to think.
When we label something a dog and the dog walks in the room, I don't have to be like, what kind of animal is that? Is that a horse? What does it do? I know what a dog is and what a dog does, unless it's our demon dog which surprises us by trying to bite our faces off.
In general, that's what labels do, but when you use it for people, you're not able to do that. There isn't one type of man. I know ladies, we like to think that men are all the same, but they aren't, right? There's not one type of women. We say women are this way, men are that way, doctors are this way, nurses are that way, MAGA are this way, Republicans are that way, Democrats are this way. We stop thinking and guess what? People do not stay in the tidy little boxes that we create for them. It does not serve you to guess and to label. It just doesn't.
Not to mention the third reason, which is defensive attribution. Oftentimes we'll think things like, okay, well this juror involves a overweight person, and so we want overweight people on our jury because they will have this kind of kinship and understand that overweight people shouldn't be treated the way this doctor treated this person.
It's often the opposite though, because of defensive attribution, we don't want to see that that could happen to us so if I'm overweight and I'm sitting in the jury and I'm hearing all these things that the defense is saying this overweight person could have done to avoid the fate that they ended up meeting, then I'm thinking yeah, that's true. Why? Because it keeps me emotionally safe.
Oftentimes our guesses based on demographics are wrong. Oftentimes when we go in with demographics, this is an additional one that I just thought of right now, and we bring them out into the open, what we do is we start creating experts in the jury so now we know who the doctors are, now we know who the... That's why I would love to find that out on a survey instead of actually in voir dire. Now we know who the managers are. Now we know who the skiers are or whatever.
I remember we had a case here in Portland where it was a skiing case and one of the jurors, it was so weird there was only one, in our panel had skiing experience so the attorney directed all of her questions to him and made him the expert. Now, whether or not, before even finding out whether or not he agreed with our rules or not. This is a huge problem because the jurors who don't know anything about skiing or the rules of skiing will go back there and turn to him because he's the only one with skiing experience. I'm not saying you should never find out about jurors and their lives and where they work, but when you bring that so as the thing we're going to find out right at the top, you start creating experts without even knowing you're doing that and then you can't get out of it later. You're not being smart about it.
Why do we do this? Why do we rely on demographics and guessing and all of the things? We do it because we're scared. We're scared to actually talk to people. One, it's awkward. We've been talking a lot about this in the crew lately, that if you cannot be with awkwardness, you're not going to be a very good trial attorney because the jury is in an awkward situation. They're hostages, remember, and they're there and they don't know how anything works, and they don't know how they're supposed to talk to you, and they don't know what the rules are, and they don't know what the case is about. They don't know each other. They don't know when lunch is. They don't know anything and so you're going to come up there and you're going to try talking with them, and it's going to be awkward as fuck. Expect it.
What you all do, because you heard my talking too much podcast, is you start talking and filling the awkwardness when that silence is going to be one of the best things for you, but we do it because we don't want to have the awkward conversations and we do it because as I said, when we make up stories, we feel safer. Well, MAGA means this. There's a lot, or there's very little I should say, certainty in this process for you of what works and always works so we're going to try to go toward the formulaic things. Well, at least that's for sure, but it's not, it's fake, it's false. It doesn't give you any more certainty, you just think it does.
We also don't know how to deal with "Bad juror answers". Go back and listen to that podcast where I taught you how to do that. We're afraid of the things that the MAGA person's going to say so if I can just figure out who they are, then I can shut them down. When sometimes, MAGA or otherwise, a "bad juror" is the one thing that ends up forming your group. There are times you definitely want them to talk. That comes down to group dynamics for sure.
What is it that we really want to do instead? Well, we want to talk to people. As I've said over and over again, I don't care so much about a juror's experience, I care about what beliefs they created based on that experience. We get to those beliefs by asking powerful questions so instead of questions that take a juror to their head, which is information gathering, we ask questions that take them down into their heart space. Things where they have to think for a minute. Things where they have to tell us about what the experience meant to them or the person meant to them or the beliefs that they hold. Things that you can't just rattle off super easy, which again, demographic questions are.
That's the other thing about demographic questions as I'm thinking about it. Is it's like this sneaky way. It's like you're trying to, how can I design a question to find out this thing about this person that I don't want them to know that I'm trying to find out. We're all about not being deceptive in jury selection. Everything and all people are welcome in our jury selection. Anything you believe is fine. Why? Because we stay on the side of the truth and truth is not afraid of the light. If you say something that is true, I'm going to handle it. If you say something that's untrue, I'm going to let the jury handle it. That's really the true rules because if it's true, I'm going to highlight the shit out of that. If it's not true, I'm going to let the jury fix it for me and they always do, you just never give them a chance to do it.
If you're like, you're in la la land, sorry, talk to my H2H-ers. They will tell you that once they put all of the fear down and started trying the things I'm asking them to do, they're like, shit the jury handles all my problems. I'm like, they will if you know what you're doing so we're wanting to ask those powerful questions. We're want to base our case on principles and we primarily want to listen, want to listen. So often jurors will give us absolutely everything we need and it just flies right over your head because you're trying to figure out some question that you've designed that's supposed to be tricky that they don't know but you know, stop. It's so much easier.
Just talk to people. Stand in the truth. Have confidence in you and your case and we will begin to win more cases. The last podcast I did was why most of you lose, and we tend to lose more than we do. I think it's because you've been doing this weird ass voir dire. I should've put that in there. I mean, that's a big part of this. If we really start creating cases that are based in principles that are juror focused, that we're not using gimmicks, we're not making guesswork, we're really getting jurors invested. Those numbers are going to go up. I know they are.
So how do you find a MAGA juror? Who fucking cares? Stop with that shit. Just stop. Decide what your ideal juror needs to believe, and then go and find the people that believe it. That is the secret that we have here at H2H. We're not messing around with anything else. Most of you all don't have enough time to do anything else, so spend your time where it makes sense.
I love you. Have a great, I think Memorial Day is coming up, so have a great Memorial Day. That's my daughter's birthday and we'll talk next week.
Have you ever wished that you knew what the jury was thinking? Well grab a pen and paper because I'm about to give you instant access to a free training I created for plaintiff trial attorneys called 3 Powerful Strategies to Help You Read a Juror's Mind. It's going to help you to understand what the jury is thinking so you'll feel confident to trust them and yourself in the courtroom. Ready for the address, go to sariswears.com/jury. Enjoy.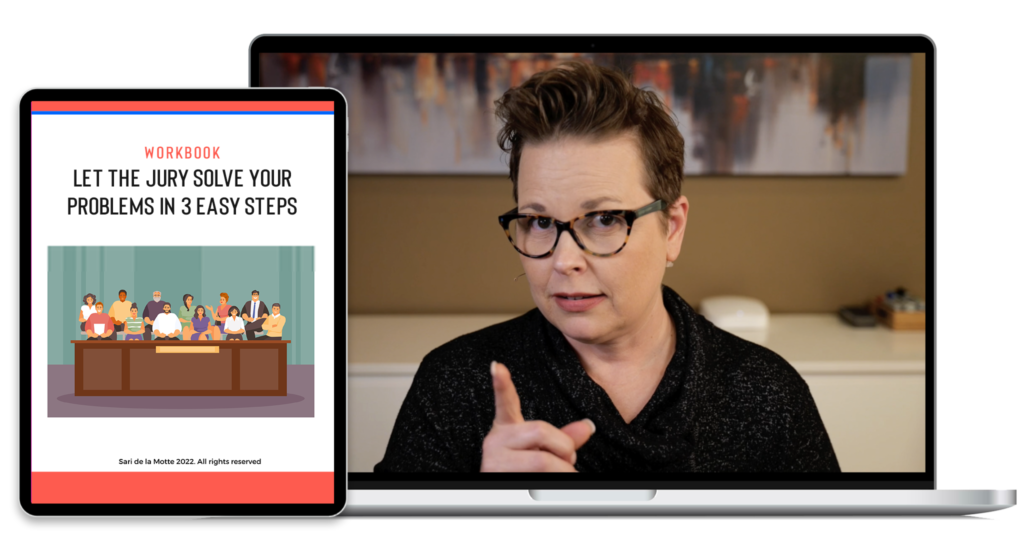 Free Training
---
3 pOWERFUL STRATEGIES TO HELP YOU READ A JUROR'S MIND
Let the Jury Solve Your Problems in 3 Easy Steps
Join me for a free training to understand what the jury is thinking so you have the confidence to trust them - and yourself - in the courtroom.
Use the H2H Funnel Method so that jurors tell YOU the principles of the case instead of you telling THEM.

Subscribe to the Podcast
Tune in weekly as Sari shares tips that will help you up your game at trial, connect with jurors, and build confidence in your abilities so that you'll never worry about winning again.
Sign up for trial tips, mindset shifts, and whatever else is on Sari's brilliant fucking mind.