The jury wants to help you.
And this can be a HUGE problem.
I know, I know, that doesn't make sense, but it's true. If you let the jury help you, you HAVE to have the skills I discuss in this podcast.
Tune in to learn what they are.
👀 Check out the free H2H training below!
EPISODE 170 TRANSCRIPTION
When you're up against a hostile room of people who don't want to be there, you need real strategies that get results. Welcome to From Hostage to Hero, the show that gives you practical advice you can use right now in the courtroom, boardroom or classroom. Learn how to move your unwilling audience to one that is invested in what you're saying, eager to participate and engaged in the process. Learn from the attorney whisperer herself, your host, Sari de la Motte.
Sari de la Motte:
Hello, darlings. How are you? Welcome to another episode of From Hostage to Hero. The very juicy topic today, and before I drop that in... drop in... drop that in? Drop myself in. Okay, I'm dropping myself in. Before I drop that content, how about that? I need to remind you that we have a free course that you can go and learn some great voir dire shit. It's called Let the Jury Solve Your Problems and if you go to fromhostagetohero.com/training, you can get that and the workbook, and it's awesome. And I want you, when you get the email, to hit reply and tell me what you think of the training, because I'm loving getting those comments on the training. People are loving it.
So today has something to do with that because if you get really good at voir dire, you can have some problems. I know that's weird to say that, but I keep seeing this. This is kind of the curse of being awesome is that when you conduct a great voir dire, you can actually hurt yourself if you do not recognize that you are doing some of the things that I am going to talk about today. So here is the big thing that I think you need to recognize. When you are conducting a great voir dire and you have great rapport with jurors... Now, let's just stop there and talk that much. We don't teach you in the H to H method how to have rapport with jurors. I know weird, right? But we don't. We don't talk about how to break the ice or what jokes to talk about or how to talk about yourself or how to create a relationship. We don't do any of that shit. The way that we create rapport with jurors is by meeting them where they are.
So that's why we have what's called the issue-oriented voir dire and that is based on the issues in our case, creating a voir dire around it, and guess what? Letting the jury solve our problems for us, solve our issues for us. But in terms of the rapport building, guess what? Jurors want to deal with issues. As you've heard me talk about before, we are either tending to a relationship or dealing with an issue in any situation, any communication situation, jurors are not there for a relationship. So guess what? They want to know why they're there, issue, we have issues we need them to solve. Yay. We marry the two, we both are happy. They're happy because now they understand why they're here and what they need to do. We're happy because they're solving our problems for us. So that creates rapport, or as we like to call it in our biz over here at H2H, that creates permission.
How receptive someone is to you or your message. We want jurors receptive. They're going to be most receptive when we meet them where they are, when we go to the issue bucket. All right. So when you have this rapport or this permission with jurors, something's going to happen that you need to be on the lookout for, because if you do not know that this is happening, you're going to get in trouble. Your voir dire is going to hurt you. And here's what it is, they're going to want to help you. I know. You're like, "That's it? That's what you have for me, Sari?" Yeah, that's what I have for you. You're like, "Well, that's a good thing." Yeah, it's a good thing, but it can also backfire. Here's what I mean. So, oftentimes you've heard me talk about in a couple podcasts ago how you are unwittingly legitimizing defense arguments.
So let's use that as an example. So you have... and if you didn't listen to that podcast I'll tell you what I mean here, so in our method, we talk about how you create these funnels which gets the jury to give you the principle in the case. You know the principle that you're driving toward and then you develop a set of questions to unearth that principle and have jurors hand it over to you. Yes, it's awesome and I talk about how to do it in the app, in the free course. So go there. Not right now, when we're done, go there, because you're going to love it. All right. So let's say you're going down your funnel and the jury gives your principle, then we say the next step after that, and this isn't always needed, but we do it often, is to use what we call a devil's advocate question.
So what's a devil's advocate question? Well, it is a defense point because here's the thing you never ever, ever put a defense point in a funnel. You are always funneling to a principle, a plaintiff principle. You are never funneling to a defense point. So if you get the principle and you're still wondering, "Are there jurors out there who are defense oriented jurors who do not believe in 99% of the principle as most people do? How do I find them?" Well we say use a devil's advocate question. So the devil's advocate question is a defense point and you say it and you say, "Yeah, but," and then you say the defense point. So for example, let's say that it is a slip and fall case and you have the jury give you the principle that you've come again ahead of time, so you have your questions and they say to you that store owners must keep their premises safe from tripping hazards, right? Jurors would never say that, they wouldn't say premises and they wouldn't say hazards, but you know what I'm saying?
Let's use our lawyer language here on the back end. You guys have taught me how to use that crazy ass language. How would a juror say that? "Store owners must keep their stores safe so people don't trip and hurt themselves." So they've told you that. You might then say in a defense devil's advocate, you say, "Yeah, but store owners have lots to do. I mean, shouldn't people just look where they're walking. If there's something on the ground, you should see it, right?" That's what the defense is going to say, or at least hint. Now, if you have created this great rapport, you created this great voir dire with your jurors, they're super open to you, they want to help you, because they will for a couple reasons.
Let's actually... let's stop here for a minute. Why do they want to help you? It really comes down to a couple things. One is this sense of right and wrong. So we're dealing with this idea of principles and principles, again, are not values. Values are personal. Everybody has different values. Stephen Covey says even criminals have values. So we're not talking about values. Principles are things that are fundamentally true. That's how we define them here, they're a fundamental truth. If there's something slippery on the floor, someone could trip and hurt themselves. No one is going to disagree with that, not even the defense. So that's a principle. So when we get our case focused on the principles, we start making it about right and wrong and jurors want to be on the side of the right, because y'all are on the side of the right. I constantly tell you that. So jurors want to align with you. So that's one reason that they want to help you and are so willing to help you.
The second reason that they are willing and ready to help you is because of group dynamics. If we look at the Maslow's hierarchy of needs, we know that belonging is one of the top five needs. We do not want to be on the outs. We want to be thinking what the group is thinking. That's what we want to do. And so in the H2H method, we talk a lot about how to form that group, how to get the group thinking together and wanting to do things together. Because again, what they're doing and our method and voir dire is a group method. It's not individual. I know sometimes you're forced to do individual voir dire, not panel voir dire, but the reason we focus on having a group conversation instead of many interviews, which is what most of you people do, is because they don't do their work individually. They don't go take a test with pencils and a timer and not being able to talk to anybody.
It's the opposite in the verdict room. They have to talk and work together. So we start teaching them how to do that right from the beginning. So that group dynamic also creates this pressure to want to help you. When you have the principles that people start to rally around, then the other people see they're all rallying around it. Now we want to do it as a group because nobody wants to be left out. We want to have this sense of belonging. But the third reason why jurors want to help you is because they don't want to be wrong. They don't want to feel like they're wrong. So this is what I always teach when I'm teaching voir dire training to my people is that when a juror says something that isn't what you want, you never make them wrong.
First of all, we design, that's why we have our designed alliance at the beginning around things so that we try not to make them wrong from the beginning. We say, In this process, I'm not allowed to talk about facts or evidence. And that can be really frustrating, because it feels like I have all the information and you have none and you're grasping. So we know that jurors because they feel like they're the only ones that are not in the inside joke, that they're grasping for information. So in many ways, they're trying to help themselves not just you. They're trying to piece together the information because they don't want to look dumb. So when you say something, going back to our example of, "Yeah, but store owners are busy. They don't have time to clean their floors all the time and people should just look where they're walking."
If you say that in a normal tone of voice, and I talked about this in the last couple podcasts ago, you unwittingly legitimize it because you're having this great rapport, you're having this great voir dire, and now you say it in a normal voice, "Yeah, but shouldn't people look where they're walking?" And the jurors are like, "Oh yeah, I guess so." And you're like, "Shit, well how did I lose the jury?" Well, because you just... they're following you. This is what leadership is, right? You are getting the group to rally around these principles. That's why the devil's advocate, you got to know what the fuck you're doing before you use it, which isn't that hard just make sure you use a weird tone of voice that communicates to the jury, "This is bullshit. Yeah, but I mean store owners are busy. They can't be looking all the time. Just look where you're walking." Notice my tone of voice. I have now communicated to the jury, this is bullshit.
Now, somebody out there who doesn't think it's will be like, "That's actually true." Great, now we know where they are. So this is what I'm talking about. They want to help you because they want to be on the side of the right, they want to be a part of the group and they don't want to look stupid. They're grasping for information, they're trying to put things together. I always remember... excuse me. I always remember a bicycle case where the attorney was doing a great voir dire and then somebody in the jury said, "Well, what about... are they allowed in the bike lane or should they be on the... I mean, are they allowed on the street? Shouldn't they be in the bike lane?" And then this whole conversation took place about whether or not the bicyclist should be in the street or in the bike lane. And the whole case became about that. And the attorney didn't know how to turn that around, which I'm going to show you how to do at the end of this podcast.
And so the jurors went down that road and I said to him, "If you don't know how to bring that back, by the time the jurors figure out that that has nothing to do with the case, they're going to be mad." Why? Because they're going to feel stupid that you let them have this whole conversation and didn't stop them and say, "Actually bikes are allowed in the lane of traffic with cars so that's not something you need to deal with as a juror in this case." You need to learn how to take that back. Why? Because they want to help you and they're getting these little pieces of information. They're like, "Oh, is it about this? Oh, wait, is this case about that?" They're just dying for that information. That's another reason why we use context statements in voir dire. This case involves a hospital. In this case, somebody was injured. Very, very short, but it gives them a little bit of information to direct the conversation.
So here's how another way that conducting a great voir dire can hurt you. You're having this great voir dire, it's based on issues, you're building that permission with your jurors because you're meeting them where they are, they're getting on the side of the right and you do not know how to facilitate. So let's go back to that bike example. So when a conversation starts to go off the rails, you're going to have to know how to facilitate that conversation and get it back on track. So there are three things that I always teach when I teach how to facilitate a conversation, especially when something is starting to go the wrong way in voir dire, because that's the other... that's really the thing I wanted to say that goes awry. When you do this kind of voir dire, it's very open-ended, it's very curious, you're totally allowing any kind of answer, which means they are going to talk to you way more than you would normally have them talk to you and you need to know how to facilitate a conversation.
So here's what it is. It's called stop, start, string. So when you have the jurors start going down a path that you know is either dangerous or has nothing to do with the case and they're going to get mad at you later when they find out, "Why did you let us talk about this when the case has nothing to do with this?" You can stop them. That's your first order of business. And you should. So you can say, "I'm going to stop you right there. This case has nothing to do... You will not as jurors have to decide whether or not the bike was where it was supposed to be. I can tell you right now, and both sides are going to agree, the bike was where it was supposed to be. That's not an issue in this case." So you can just stop it right there.
The second thing that you can do is you can start. That normally comes after a stop. So sometime... or not always, but it can. So sometimes somebody will be talking about something and it's a little bit weird, but the group hasn't kind of picked it up, they're not running with it, you don't need to do a full stop right in their face, "I'm going to stop you there." You don't need to do that. You just let it peter out and then you go, "Let me ask you this," and you just change direction. You just pick up the conversation and you move it where you want it to go. That's a start facilitation technique, right? So one's a stop, another's a start. Oftentimes when you have a stop, then you need a start. But not always do you need the stop, if that makes sense. Sometimes one individual juror will say something and you just need to be like, "Thank you. Let me ask the group this," and just move it along. Sometimes the whole group starts going down and then you're going to need a harder stop and then do the start.
You can also do what we call a string. So a string is where you'll do something like, "This case does not involve that, but that brings up a really good point. So you take something that the juror said and you string it to what your case actually is about. And that's a really great facilitation technique, especially if there's like a kernel of truth in something they've said and you want to highlight it and then move them toward. So stop, start, string. These are the things that you need in order to facilitate this great conversation because the jury wants to help you, they don't want to be wrong. You're going to be super curious, you're going to have them talking a lot. So if you conduct this great voir dire, it can hurt you unless you have these facilitation techniques.
Now the last thing I'll say is that the other way conducting a great voir dire will hurt you is that you'll get objected to and maybe have motions start. This is not a bad thing, my friends. This means the H to H method is gaining ground. This means that it is effective and this means that we need to fight harder, not get all fucking freaked out when we start getting objected to, or having motions in limine about, "You can't ask about jurors' expectations." Bullshit. Then don't use the word expectations if that's the problem. So that I'm going to say to you is going to happen more and more as you conduct great voir dire. Because the defense isn't going to see it coming and neither is the judge and it's new and it's effective and are you fucking willing to be on the front lines as we start pushing this forward? If so, you got to be ready to put up with that shit. Don't let that knock you off your game. That is a sign that you are doing it right.
Let me say that again. Just like when I talk about your saboteur comes out when you're about to do something awesome, because your saboteur is afraid of change, when you do this, the other people's saboteurs get riled up. Expect it. Do not get into what we call saboteur party, which is when their saboteurs show up, then your shows up and they all start partying and everything goes to hell in a handbasket. You stay in your great space of, "Oh, I must be doing it right if I'm getting objected to." Do you not let that throw you off your game.
All right. Continue to conduct those awesome voir dires knowing that as you do, the jury's going to want to help you and that you're going to have to have these great facilitation skills to be able to handle that conversation. That is awesome. You are awesome. Talk soon.
While you wait for next week's episode, how would you like instant access to exclusive trial skills training on my funnel method for voir dire? Grab a pen and paper so you can jot down the website address for a brand new 16-minute video that will help you win more cases. The free training is called Let the Jury Solve Your Problems in Three Easy Steps and I'm even going to send you a workbook to go with it. Now, are you ready for the address? Visit from hostagetohero.com/training. You'll see me there. Enjoy.
If you liked this episode topic, check out these others: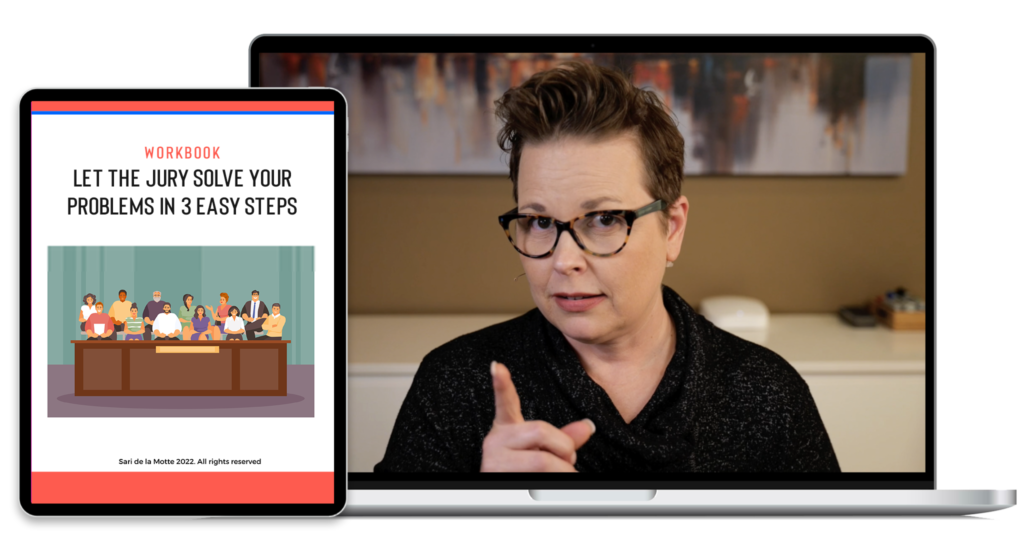 Free Training
---
3 pOWERFUL STRATEGIES TO HELP YOU READ A JUROR'S MIND
Let the Jury Solve Your Problems in 3 Easy Steps
Join me for a free training to understand what the jury is thinking so you have the confidence to trust them - and yourself - in the courtroom.
Use the H2H Funnel Method so that jurors tell YOU the principles of the case instead of you telling THEM.

Subscribe to the Podcast
Tune in weekly as Sari shares tips that will help you up your game at trial, connect with jurors, and build confidence in your abilities so that you'll never worry about winning again.
Sign up for trial tips, mindset shifts, and whatever else is on Sari's brilliant fucking mind.